2018 Spring Meeting Information
Beekeeping – Good Fellowship   SINCE 1903
Exploring the wonderful world of beekeeping together.
THE KANSAS HONEY PRODUCERS' ASSOCIATION
(formerly k.a. The Kansas State Beekeepers' Association)
Friday and Saturday March 9 & 10 2018
The Cedars Conference Center 1021 Cedars Drive, McPherson KS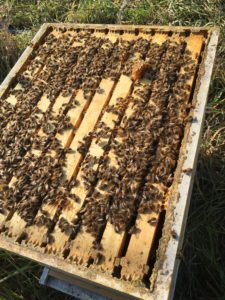 Our guest speakers will be Dr. Dewey Caron and Randy Oliver.
Dewey M. Caron is a graduate of Cornell University and Emeritus Professor from the University of Delaware. He has received numerous awards and forms of recognition for his teaching and extension work during his career. He has written many books and is one of our favorite guest. Some of his books are Honey Bee Biology and Beekeeping, Observation Hives-How to set up, maintain and open a window to the world of Honey Bees, Beekeeping Basics and Africanized Honey Bees in the Americas.
Randy Oliver owns and operates a small commercial beekeeping enterprise in the foothills of Grass Valley in Northern California. He and his two sons manage about 1000 colonies for migratory pollination, and produce queens, nucs, and honey. He has over 40 years of
practical beekeeping experience, plus holds B.S. and M.S. degrees in Biological Sciences. Randy researches, analyzes, and digests beekeeping information from all over the world in order to not only broaden his own depth of understanding and knowledge, but to develop practical solutions to many of today's beekeeping problems, which he then shares with other beekeepers through his various articles in bee magazines, his speaking engagements worldwide, and on his website: www.ScientificBeekeeping.com
If you have questions about the program please contact me (Joli) by phone at 913-856-8356 or by email (use 'KHPA' one the subject line) at joli@heartlandhoney.com. Please start letting folks in your local area know so that they can save the dates.  KHPA Meeting Information (link).  If you belong to a local beekeeping group please promote our meeting to your group.
Kansas Honey Producers Fall 2018 meeting-save the dates-
October 26 & 27 2018 Great Bend Kansas
The fall 2018 meeting of the Kansas Honey Producers will be held in Great Bend Kansas at the Best Western and Perkins.  Details will be available soon.  Please "Save the date". 
The Kansas Honey Producers Association (KHPA) is a not-for-profit IRC 501(c)5 agricultural-educational organization; run by dedicated volunteers; supported primarily by membership dues (subscriptions). The IRC status means that the association is a tax-exempt organization. While donations are always welcome, they are not tax deductible as a charitable contribution but membership dues and subscriptions may be deductible as ordinary and necessary business expenses.